Hurricanes in New Jersey
When is Hurricane Season in New Jersey?
The official hurricane season in New Jersey coincides with the Atlantic hurricane season, spanning from June 1 to November 30. While hurricanes can form outside these dates, the conditions for hurricane development are most favorable during these six months.
New Jersey experiences a relatively low frequency of hurricanes compared to coastal states further south. However, the impact of hurricanes on New Jersey should not be underestimated. The state has experienced several major hurricanes, with the most significant being the Atlantic hurricane in 1821, the Great Atlantic hurricane in 1944, and Hurricane Sandy in 2012.
Referencing historical data from the NOAA Hurricane Research Division, we created an image based on hurricane paths dating back to 1851. This graph, shown below, illustrates the likelihood of experiencing a tropical cyclone on a particular day of the year. It compares actual storm landfalls in New Jersey with the storm pattern in the entire Atlantic basin.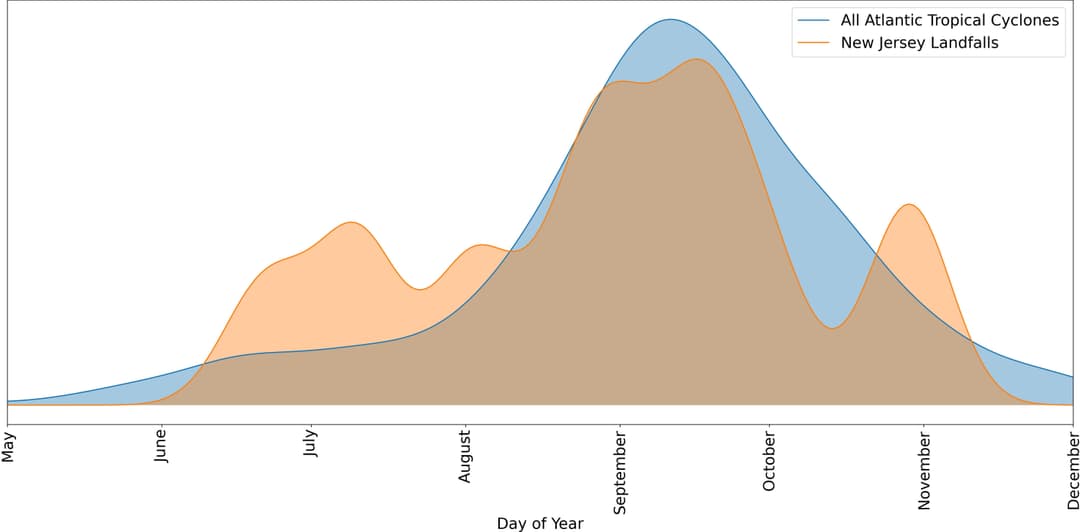 It is important to note that the graph does not differentiate between a tropical storm, tropical depression, or a major hurricane but rather shows the general likelihood based on these systems' historical patterns. Each of these systems, while varying in intensity, has the potential to cause significant damage, particularly when they make landfall.
Where Do Hurricanes Hit Most in New Jersey?
The coastal regions of New Jersey, particularly the counties of Cape May, Atlantic, and Ocean, are the most susceptible to hurricanes. This susceptibility is primarily due to their proximity to the Atlantic Ocean, making them the first line of defense against hurricane-force winds, storm surges, and flood events.
Inland counties, such as Mercer and Camden, while not immune, generally experience fewer and less severe hurricanes due to their distance from the coast. In comparison, the coastal areas of New Jersey are more susceptible to damage caused by the combination of both high winds and tidal surges. This is why coastal regions can sustain significant damage from a tropical cyclone, while inland areas are relatively safer from strong winds.
The Hurricane Risk Graph below provides a visual representation of the hurricane risk across New Jersey. This heat map uses graduated colors from blue to red to represent the risk level. Blue indicates low-risk areas, while red signifies high-risk. The risk level is determined by the frequency of hurricane occurrence, weighted by wind speed.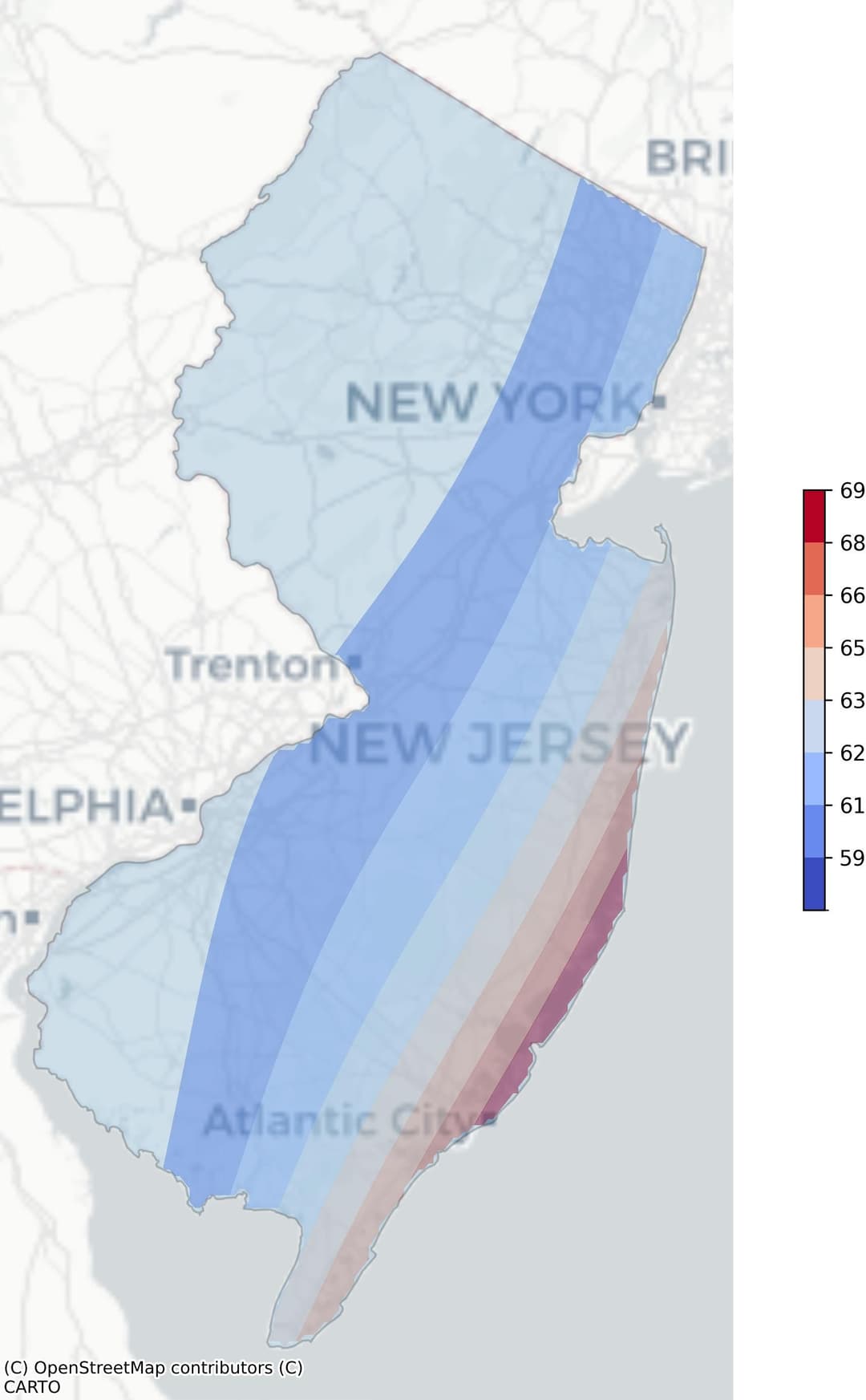 What Are the Recent Hurricanes in New Jersey?
Hurricane Isaias, August 2020: Hurricane Isaias, though primarily impacting the Carolinas, brought heavy rain and strong winds to New Jersey. It resulted in the loss of two lives and caused extensive power outages across the state. Localities significantly impacted include Gloucester, Camden, and Burlington counties.
Hurricane Sandy, October 2012: Known as the most destructive hurricane in New Jersey's history, Sandy caused an estimated $30 billion in damages and claimed 37 lives. It significantly affected the Jersey Shore, especially towns like Seaside Heights and Atlantic City.
Hurricane Irene,** August 2011**: Irene caused major flooding, particularly in inland areas like Paterson and Little Falls. The storm resulted in 7 deaths and caused roughly $1 billion in damages.
Hurricane Floyd, September 1999: Floyd caused significant flooding across the state, particularly in Bound Brook, where the Raritan River overflowed. It resulted in 6 deaths and caused approximately $250 million in damages.
Hurricane Fran, September 1996: Although Fran made landfall in North Carolina, it brought heavy rains to New Jersey, causing significant flooding. No deaths were reported, but the storm resulted in around $100 million in damages, primarily in Salem and Cumberland counties.
How to Prepare for a Hurricane Season in New Jersey
Effective planning and readiness can aid in reducing the impact of a hurricane storm, as well as facilitate a more manageable recovery process.
Before a Hurricane
A comprehensive hurricane preparation checklist is essential to ensure the safety of people and property. Here are some important steps to consider:
Create an emergency plan: This should include evacuation routes, safe locations, and communication strategies with family members.
Build an emergency kit: The kit should contain essential items like food, water, medications, and important documents.
Check insurance coverage: Make sure your property insurance covers flood damage, which is common during hurricanes.
Secure your home: Reinforce doors, windows, and roofs to withstand strong winds. Remove or secure items in your yard that could become airborne.
Stay informed: Monitor weather reports and heed warnings or instructions from local authorities.
During a Hurricane
Understanding what to do during a hurricane is critical to ensure safety. Here is a concise list of actions to undertake to stay** safe during a hurricane in New Jersey**.
Keep informed: Regularly check updates from local authorities and meteorological services. Use a battery-powered radio if power is out.
Secure your home: Cover all windows with storm shutters or plywood. Secure outdoor objects or bring them indoors.
Prepare an emergency kit: Include essentials like water, food, medications, flashlight, and batteries.
Know your evacuation route: Familiarize yourself with the designated evacuation routes and follow the instructions of local authorities.
Avoid flood water: Do not walk or drive through flood waters. It may be deeper than it appears and can carry dangerous debris.
Stay indoors: Unless instructed to evacuate, stay inside, away from windows, skylights, and glass doors.
After a Hurricane
Following the aftermath of a hurricane, here are some key steps to undertake:
Safety First: Prioritize your safety and that of your loved ones. Avoid downed power lines, standing water, and unstable structures.
Assess Damage: Document the extent of property and vehicle damage. Capture photos and videos as evidence.
Contact Insurance: Initiate the** insurance claim** process. Your car insurance claim payout could cover vehicle damage, and homeowners' insurance may cover property damage.
Temporary Housing: If your home is uninhabitable, find temporary shelter. Consider local options or seek assistance from friends and family.
Reach Out to FEMA: The Federal Emergency Management Agency (FEMA) provides disaster survivors with recovery support. Contact them for possible assistance.
Cleanup and Repairs: Begin the cleanup process once it's safe. Engage professional services if necessary.